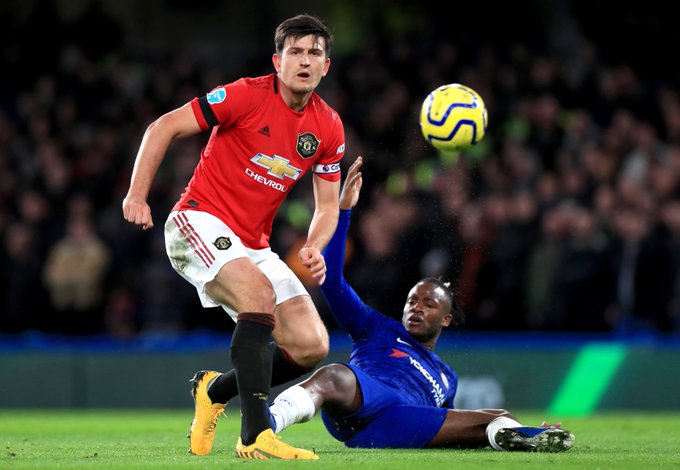 In the opening minutes of the game both teams started off the match at a decent pace. Then Reece James for Chelsea in the 6th minute created a good opportunity to score, but his shot just went agonisingly wide of the right post. Two minutes later Chelsea almost scored again when Willian's curling shot went inches wide of the goal.
However after that United made a few attacking forays into Chelsea's final third, but with no end product. The Reds were slowly finding their rhythm. Michy Batshuayi had the easiest chance of the match so far when Mason Mount's cross from the left flank found the striker, but his low drive missed the target.
United didn't look so confident with a back three of Maguire, Bailly and Shaw. The Blues looked dangerous and created more chances than the men in red. United were slow to move the ball up the field, and Chelsea took advantage of it. The home side used a high press against us and whenever we lost possession we struggled to get back defensively and get organized quickly sometimes.
Anthony Martial had an opportunity eight minutes before half-time to open the scoring, but after his quick one-two with Bruno Fernandes, his shot went wide of the goal. But then in the 45th minute Aaron Wan-Bissaka whipped in a wonderful cross from the right flank, and the Frenchman headed past keeper Wilfredo Caballero.
Batshuayi had another golden chance to make amends for his miss earlier, but still managed to drag his shot wide of the post after a good pass by Pedro. With just three minutes of injury time left, the Reds went into half-time 1-0 up.
After the break, United were sloppy in conceding possession. But we were just happy to sit back and stay organized and compact and wait for the counter-attack. Kurt Zouma thought that he had equalized for Chelsea, but the goal was ruled invalid because of a foul in the box, so United still lead 1-0.
Then Harry Maguire doubled United's advantage when his headed goal went past Caballero after a great corner from Fernandes. The goal came six minutes after the hour, and the visitors looked in control. Olivier Giroud believed that he had scored when several minutes later he scored at the near post. But unfortunately, VAR overturned the goal and ruled it as offside.
Chelsea were resilient though despite their two goals being overturned. They continued to attack to get themselves back into the match. We defended well and we just kept possession and took the sting out of the game. Then Odion Ighalo came on for Martial in injury time and Fernandes replaced Diogo Dalot. Ighalo almost got his debut goal, but his drive was saved by the keeper. There was no way back for the Blues, and United left Stamford Bridge as 2-0 winners.